On Thursday, President Joe Biden delivered an impassioned speech at the U.S. Capitol Building publicly blaming the former president for spreading "a web of lies about the 2020 election."
"We must be absolutely clear about what is true and what is a lie. Here's the truth," he said. "The former president of the United States of America has spread a web of lies about the 2020 election."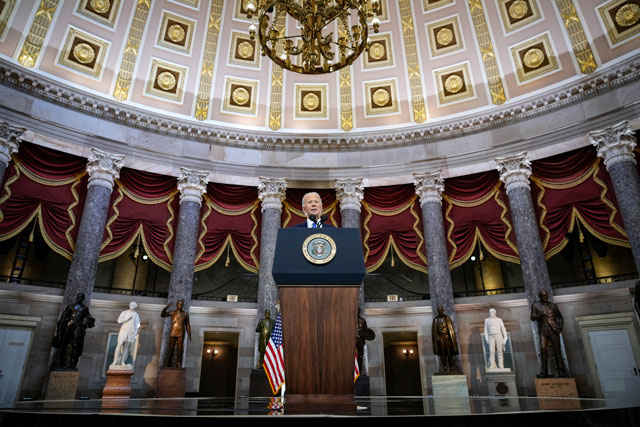 Thursday marked one year since rioters stormed the Capitol Building and breached the federal building. On January 6, 2021, a mob of former President Trump supporters stormed the Capitol Building as Congress met to count the electoral votes for the 2020 election.
What followed was absolute chaos.
U.S Capitol Police Chief Steven Sund said the "violent attack on the U.S. Capitol was unlike any I have ever experienced in my 30 years in law enforcement here in Washington, D.C."
As his supporters broke into the Capitol Building, the former president Trump failed to take immediate action.
"For the first time in our history, a President had not just lost an election. He tried to prevent the peaceful transfer of power as a violent mob reached the Capitol," Biden said during his speech. "But they failed. They failed. And on this day of remembrance, we must make sure that such an attack never, never happens again."
While Biden never uttered the former president by name, it was clear who he was talking about during his half hour speech.
He's not just the former president. He's the defeated former president, defeated by more than 7 million of your votes, in a full and free and fair election. There is simply zero proof the election results were inaccurate. In fact, in every venue where evidence had to be produced, where oaths of truth had to be taken, the former president failed to make his case.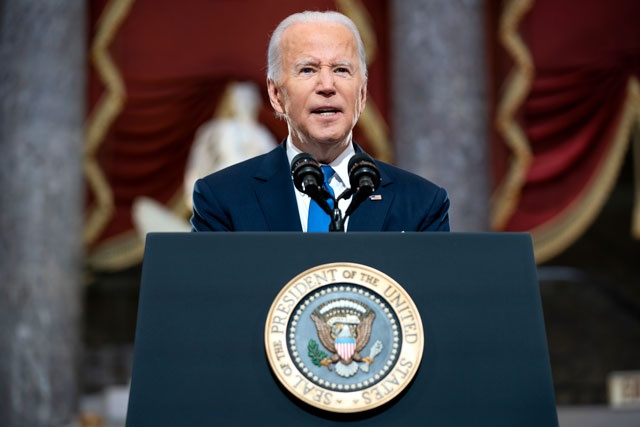 Just think about this: the former president and his supporters have never been able to explain how they accept as accurate the other election results on November 3, elections for governor, United states senator, House of Representatives, elections where they closed the gap in the house. They challenged none of that.
President Biden ended his speech said he "did not seek this fight" that was brought to the Capitol one year ago, but vowed not to "shrink from it either."
"I will stand in this breach. I will stand in this nation, I will defend this nation. I will allow no one to place a dagger at the throat of this democracy."
You can watch President Biden's entire speech in the video below.
What are your thoughts on President Biden's speech?
Please share with your family and friends to keep the conversation going.
The post President Biden marks one year since attack on the Capitol with 'God's truth about January 6, 2021' appeared first on Newsner English.